Explore Arlandastad Training Academy
Training Academy – Moving ahead for everyone
Good things come from thinking outside the box! Especially for businesses with big ideas, looking for room to grow. Discover the possibilities at Explore Arlandastad and our new development for exercise and health – Training Academy!
Ready, steady, go! Race ahead with our new venture
Sprint or marathon enterprise, Explore Arlandastad is the ideal place for a community of sports, health, and innovation. The Training Academy is starting as 490,000 square meters of tailor-made spaces, ready for training and health ventures of all kinds alongside indoor and outdoor sports, gathering innovation in a community that is all about education, fitness, and sports medicine.
The synergies of location and logistics
By working closely with Sigtuna Municipality and stakeholders from across sporting Sweden, there is the chance to create an interface for people and ventures that want to find their place in the world and grow. As everyone knows, what really matters is location, location, location. In a prime location between Stockholm and Uppsala, Training Academy is easily accessible. Part of Arlandastad Golf and close to the E4 motorway and Stockholm Arlanda Airport, the world is on its doorstep. The Training Academy is the obvious place for enterprises and visitors, both local and further afield.
From the kick-off
The Training Academy is the place for companies and people who want to meet and develop businesses and ideas. A place where sporting Sweden can gather. A place for healthy meetings, creative conferences, training, and of course the occasional workout. A place where everyone can tailor their premises to their own specifications. Where the seeds of an idea can grow into something big. With 490,000 square metres in an ideal location, it's the best place to build your dream.
The first to move to Explore Arlandastad was Parasport Sweden, the sports federation for people with mobility impairments, visual impairments, and intellectual impairments, which chose the location to simplify their management and logistics for national and international competitions.
The need for sports halls and sports-related facilities is huge as Sweden's population and cities grow, as the City of Stockholm has stressed in its strategy for sports facilities for 2022–2026.
We're raring to tell you all about it!
Catarina Sjömark
Affärsutvecklare
Stora idéer måste få ta plats!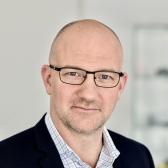 Erik Nyberg
Project manager 
Bring your ideas to me! 
Our projects